Journal of Organization Design (JOD) is an official publication of the Organizational Design Community, an international community of scholars, executives, and organizations dedicated to advancing the theory and practice of organization design. The mission of the journal is to publish theoretically sound and practically relevant articles on all aspects of organization design. JOD has a distinguished editorial board and a double-blind review process, ensuring that the journal maintains rigorous scientific standards and publishes high-quality work. JOD is covered by the major abstracting and indexing services so authors' work is widely available. The editorial team of JOD is committed to conducting a prompt review and editorial process so that authors are able to publish their ideas and findings in a timely fashion. Individuals who are interested in publishing in JOD should submit their paper in one of five formats: Research Article, Case Study, Translational Article, Point of View, and Urgent Issue.
JOD is covered by the following abstracting and indexing services:
SSRN
Crossref
WorldCat
SUNCAT
DOAJ
EBSCO
Announcements
Call for Papers – Special Issue on Organizing for Performance

In collaboration with the Performance Management Association (PMA) conference that was held in Aarhus, Denmark from 25-27 June 2014 and was co-hosted by the University of Cambridge and Aarhus University, the Journal of Organization Design is pleased to announce a call for papers for a special issue on Organizing for Performance.

Posted: 2014-07-29
More...

The Impact of Organizational Structure on Internal and External Integration: An empirical, cross-regional assessment

We examine the effects of organizational structure on cross-functional integration, supplier integration, and customer integration and assess whether such effects vary by geographical region. Specifically, we investigate the impact of centralization, formalization, and complexity on both internal (cross-functional) and external (supplier, customer) integration. Relationships are examined across Western and East Asian environments using data collected from 238 manufacturing plants in eight countries. We find that structural features have differing impacts on cross-functional, supplier, and customer integration, and these effects vary across geographical regions.

Posted: 2014-06-26
More...
Vol. 3, No. 2 (2014)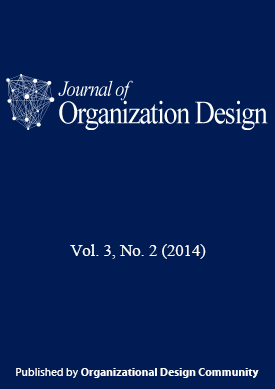 ISSN: 2245-408X