Journal of Organization Design (JOD) is an official publication of the
Organizational Design Community
, an international community of scholars, executives, and organizations dedicated to advancing the theory and practice of organization design. The mission of the journal is to publish theoretically sound and practically relevant articles on all aspects of organization design. JOD has a distinguished editorial board and a double-blind review process, ensuring that the journal maintains rigorous scientific standards and publishes high-quality work. JOD is covered by the major abstracting and indexing services so authors' work is widely available. The editorial team of JOD is committed to conducting a prompt review and editorial process so that authors are able to publish their ideas and findings in a timely fashion. Individuals who are interested in publishing in JOD should submit their paper in one of five formats: Research Article, Case Study, Translational Article, Point of View, and Urgent Issue.
Announcements
Call for Papers

You are cordially invited to submit or recommend papers to the Journal of Organization Design (JOD, ISSN: 2245-408X). The website can be accessed at www.jorgdesign.net. JOD covers all aspects of both the theory and practice of Organization Design.

Posted: 2014-02-18
More...

Special Acknowledgement to Reviewers

With the publication of Vol. 2, Issue 3, JOD completes its second year of publishing articles on organization design. We are very proud of the 36 articles published in the first six issues of the journal, and we look forward to seeing JOD grow and expand.
Posted: 2013-12-12
More...
Vol. 2, No. 3 (2013)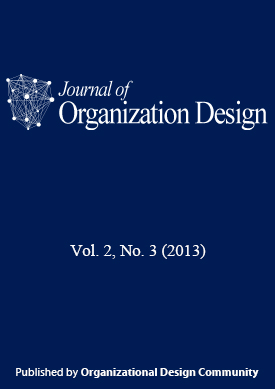 ISSN: 2245-408X