Journal of Organization Design (JOD) is an official publication of the Organizational Design Community, an international community of scholars, executives, and organizations dedicated to advancing the theory and practice of organization design. The mission of the journal is to publish theoretically sound and practically relevant articles on all aspects of organization design. JOD has a distinguished editorial board and a double-blind review process, ensuring that the journal maintains rigorous scientific standards and publishes high-quality work. JOD is covered by the major abstracting and indexing services so authors' work is widely available. The editorial team of JOD is committed to conducting a prompt review and editorial process so that authors are able to publish their ideas and findings in a timely fashion. Individuals who are interested in publishing in JOD should submit their paper in one of five formats: Research Article, Case Study, Translational Article, Point of View, and Urgent Issue.
JOD is covered by the following abstracting and indexing services:
SSRN
Crossref
WorldCat
SUNCAT
DOAJ
EBSCO
Announcements
New publication: Jay R. Galbraith Memorial Project

Jay R. Galbraith passed away on April 8, 2014. Jay was a leading authority on organization design, a founding member of the Organizational Design Community, and a valued contributor to the

 Journal of Organization Design

. We invited Jay's colleagues from around the world to offer their comments on his work. The specific question we asked was: What ideas or insights regarding organization design have you obtained from the work of Jay Galbraith? As you will see from the comments below, Jay provided many valuable contributions to the field of organization design, and he was a caring, generous colleague. He will be greatly missed.

Posted: 2014-08-07
More...

New publication: Navigating New Legal Demands For Franchisor Accountability

Franchising is a relationship wherein one organization (i.e., the franchisor) allows other organizations (i.e., franchisees) to use its brand name, products, and processes in exchange for fees. Because franchising offers franchisors the opportunity to build their brands quickly, it is perhaps not surprising that many firms rely on franchising as a key tool for organization design. One caution about franchising is that its use brings a complex array of legal issues into play. As franchising increases in popularity, so too does the scrutiny paid to this organizational form by the legal system. Indeed, the courts appear to be demanding increased accountability from franchisors. The goal of this Point of View article is to explain how organizations can avoid problems associated with increased accountability and even benefit from it.

Posted: 2014-08-01
More...

New publication: Fit Between Organization Design and Organizational Routines

Despite decades of research on both organization design and organizational routines, little research has analyzed the relationship between them. Here we propose a normative theory in which the effectiveness of organization design and redesign depends on the characteristics of routines. The analysis shows which types of organization designs may be useful as well as which design changes may or may not succeed depending on (a) the specificity of routines and (b) the dynamic versus static purposes of organizational routines.

Posted: 2014-07-31
More...
Vol. 3, No. 2 (2014)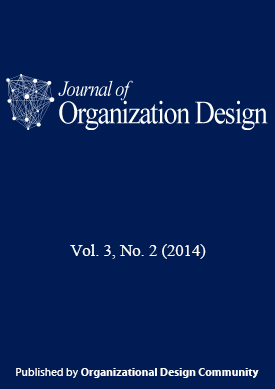 ISSN: 2245-408X