Journal of Organization Design (JOD) is an official publication of the Organizational Design Community, an international community of scholars, executives, and organizations dedicated to advancing the theory and practice of organization design. The mission of the journal is to publish theoretically sound and practically relevant articles on all aspects of organization design. JOD has a distinguished editorial board and a double-blind review process, ensuring that the journal maintains rigorous scientific standards and publishes high-quality work. JOD is covered by the major abstracting and indexing services so authors' work is widely available. The editorial team of JOD is committed to conducting a prompt review and editorial process so that authors are able to publish their ideas and findings in a timely fashion. Individuals who are interested in publishing in JOD should submit their paper in one of five formats: Research Article, Case Study, Translational Article, Point of View, and Urgent Issue.
JOD is covered by the following abstracting and indexing services:
SSRN
Crossref
WorldCat
SUNCAT
DOAJ
EBSCO
Announcements
Call for Papers: Call for Papers – Special Issue on Organizing for Performance (extended submission deadline)

In collaboration with the Performance Management Association (PMA) conference that will be held in Aarhus, Denmark from 25-27 June 2014 and co-hosted by the University of Cambridge and Aarhus University, the Journal of Organization Design is pleased to announce a call for papers for a special issue on Organizing for Performance.
Posted: 2014-09-15
More...

New volume launched: Journal of Organization Design Vol. 3, No. 2 Now Online!

It is a great pleasure to announce that the Organizational Design Community has published volume 3, issue number 2, 2014, of the Journal of Organization Design. This issue features our memorial project in honor of Jay R. Galbraith and his

many valuable contributions to the field of organization design

.
Posted: 2014-08-29
More...

New publication: Organization Design for Dynamic Fit: A Review and Projection

The concept of fit is central to organization design. In the organizational literature, fit historically has been portrayed as a static concept. Both organizations and their environments, however, are continually changing, so a valid concept of fit needs to reflect organizational dynamics. In this article, I analyze various theoretical perspectives and studies that relate to organizational fit, differentiating those that employ an equilibrating or a fluxing approach. Four substantive themes emerge from this analysis: design orientation, design tension, designer/manager roles, and measurement and validation. Implications of each of these themes for dynamic fit are derived, and promising future research directions are discussed.

Posted: 2014-08-29
More...
Vol. 3, No. 2 (2014)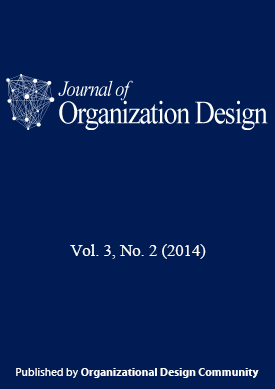 ISSN: 2245-408X