Navigating The Possible Legal Pitfalls Of Virtual Teams
Keywords:
Virtual teams, legal challenges, employment laws, intellectual property
Abstract
Virtual teams are an increasingly popular element of organizational designs. While virtual teams offer important advantages – including increased collaboration, greater flexibility, and cost savings – they may also create legal issues. Specifically, using virtual teams may lead executives to unwittingly violate labor and personnel laws. The results can be costly, including the loss of key personnel, damage to a company's reputation, and financial harm. Viewing virtual teams from a legal point of view, we identify pitfalls that virtual teams may encounter and offer ways to avoid them.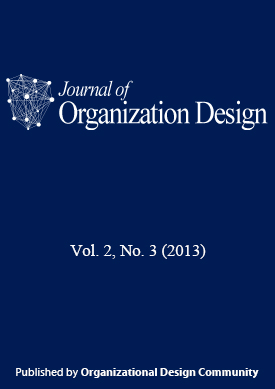 How to Cite
Plump, C. M., & Ketchen, Jr., D. J. (2013). Navigating The Possible Legal Pitfalls Of Virtual Teams. Journal of Organization Design, 2(3), 51–55. https://doi.org/10.7146/jod.13463
Section
Point of View Article
License
JOD requires that at least one author of each accepted paper sign a Copyright Transfer Agreement form. Copyright will be transferred to Organizational Design Community when the paper has been accepted.
Articles published in JOD are licensed under a Creative Commons Attribution-NonCommercial-NoDerivs 4.0 Unported License.