Organizing Healthcare For Changing Markets: The Case of Ascension Health
Eric S. Engler

Ascension Health

Stephen L. Jones

Carlson School of Management, University of Minnesota

http://orcid.org/0000-0003-1089-4821

Andrew H. Van de Ven

Carlson School of Management, University of Minnesota
Keywords:
Organization design, strategic planning, market positioning, healthcare organizations, healthcare management
Abstract
This case describes a Ministry Positioning process that will enable the management of Ascension Health to enact designs suitable for the rapidly changing healthcare industry. Ascension Health is the largest not-for-profit healthcare system in the United States with $21 billion in annual revenues and a presence in 24 states and the District of Columbia. Because the design of a large organization for a fast-moving environment is too complex and ambiguous to be fully planned in advance, the focus of the case is on the processes of learning while designing—that is, learning how to learn from designing organizations. The main lessons drawn from the Ministry Positioning process are discussed.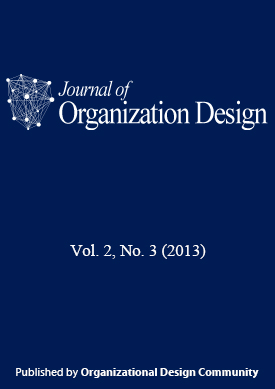 How to Cite
Engler, E., Jones, S., & Van de Ven, A. (2013). Organizing Healthcare For Changing Markets: The Case of Ascension Health. Journal of Organization Design, 2(3), 3-15. https://doi.org/10.7146/jod.15539
JOD requires that at least one author of each accepted paper sign a Copyright Transfer Agreement form. Copyright will be transferred to Organizational Design Community when the paper has been accepted.
Articles published in JOD are licensed under a Creative Commons Attribution-NonCommercial-NoDerivs 4.0 Unported License.