Viewing Ascension Health From A Design Thinking Perspective
Natalie W. Nixon

Philadelphia University
Keywords:
Design thinking, organization design, healthcare organizations, innovation
Abstract
In this commentary, I discuss how the design thinking concepts of empathy, related worlds, prototyping, ethnography, and story could enhance Ascension Health's organizational design and ultimately its delivery of healthcare services.  When organization design integrates a design thinking lens, more meaningful and innovative processes are developed both internally among organizational actors and externally with end users.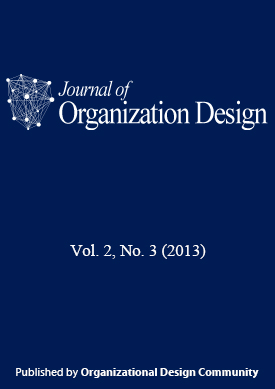 How to Cite
Nixon, N. (2013). Viewing Ascension Health From A Design Thinking Perspective. Journal of Organization Design, 2(3), 23-28. https://doi.org/10.7146/jod.15575
Section
Case Commentaries
JOD requires that at least one author of each accepted paper sign a Copyright Transfer Agreement form. Copyright will be transferred to Organizational Design Community when the paper has been accepted.
Articles published in JOD are licensed under a Creative Commons Attribution-NonCommercial-NoDerivs 4.0 Unported License.