How To Design A Triple Bottom Line Organization: A Start-Up Case Study
Keywords:
Triple bottom line, social entrepreneurship, social responsibility, start-up organization, organization design, sustainable business, people/planet/profit
Abstract
In today's business environment, where success for a start-up company is measured by early revenue and profit, it can be quite challenging to design a triple bottom line organization (people/planet/profit) from the very beginning. We present a case study of a U.S.-based start-up firm and discuss its early challenges, developmental processes, and current success as a triple bottom line firm. The company's founder and CEO, with no initial product, distribution, or revenue strategy, sought to develop a company that could provide the marketplace with a valuable product while also staying true to a corporate vision of positively affecting less fortunate people. Our analysis of the case suggests that the founder's vision, passion, transparent communication, and leveraging of partners' resources were key elements in building the firm. We draw implications of our case study for the designers of future triple bottom line organizations.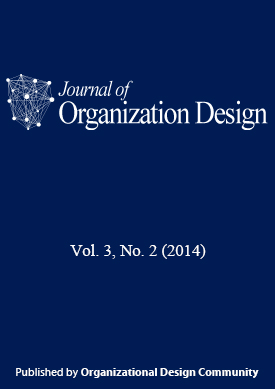 How to Cite
Schroeder, B., & DeNoble, A. (2014). How To Design A Triple Bottom Line Organization: A Start-Up Case Study. Journal of Organization Design, 3(2), 48–57. https://doi.org/10.7146/jod.16726
License
JOD requires that at least one author of each accepted paper sign a Copyright Transfer Agreement form. Copyright will be transferred to Organizational Design Community when the paper has been accepted.
Articles published in JOD are licensed under a Creative Commons Attribution-NonCommercial-NoDerivs 4.0 Unported License.