Fit Between Organization Design and Organizational Routines
Keywords:
organizational structure, organizational modularity, structural embeddedness, ambidexterity, matrix structure
Abstract
Despite decades of research on both organization design and organizational routines, little research has analyzed the relationship between them. Here we propose a normative theory in which the effectiveness of organization design and redesign depends on the characteristics of routines. The analysis shows which types of organization designs may be useful as well as which design changes may or may not succeed depending on (a) the specificity of routines and (b) the dynamic versus static purposes of organizational routines.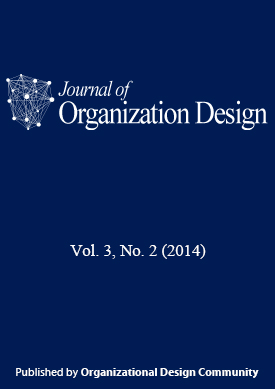 Downloads
How to Cite
Helfat, C. E., & Karim, S. (2014). Fit Between Organization Design and Organizational Routines. Journal of Organization Design, 3(2), 18–29. https://doi.org/10.7146/jod.16738
License
JOD requires that at least one author of each accepted paper sign a Copyright Transfer Agreement form. Copyright will be transferred to Organizational Design Community when the paper has been accepted.
Articles published in JOD are licensed under a Creative Commons Attribution-NonCommercial-NoDerivs 4.0 Unported License.