Exploring an Innovation Project as a Source of Change in Organization Design
Jacob Brix

Aarhus University, School of Business and Social Sciences

Lois S. Peters

Rensselaer Polytechnic Institute, Lally School of Management
Keywords:
Organization design, innovation project, case study, public-private collaboration
Abstract
This study builds new empirically based theory on how the processing of an innovation project with a high degree of uncertainty induces change in key components in organization design. By using an embedded case study as our research strategy and organization design theory as our analytical lens, we construct ten propositions that determine how the organization design of our case organization was influenced because of their innovation project. These changes represent: a) improved competencies for exploration activities, b) improved competencies for exploiting new knowledge, and c) increased readiness for change.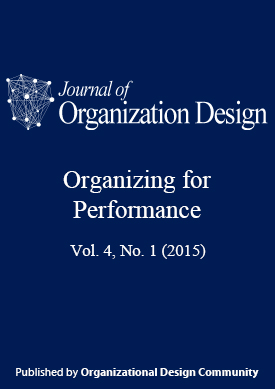 How to Cite
Brix, J., & Peters, L. (2015). Exploring an Innovation Project as a Source of Change in Organization Design. Journal of Organization Design, 4(1), 29-43. https://doi.org/10.7146/jod.17574
This work is licensed under a Creative Commons Attribution-NonCommercial-NoDerivatives 4.0 International License.
JOD requires that at least one author of each accepted paper sign a Copyright Transfer Agreement form. Copyright will be transferred to Organizational Design Community when the paper has been accepted.
Articles published in JOD are licensed under a Creative Commons Attribution-NonCommercial-NoDerivs 4.0 Unported License.