The Challenge of Being Outstanding: A Look Back and Ahead After 25 Years of Guiding Business Excellence
Harry S. Hertz

Director Emeritus Baldrige Performance Excellence Program National Institute of Standards and Technology
Keywords:
Baldrige Award, Baldrige criteria, CEO challenges, total quality management, organizational performance management, organizational change, organizational excellence
Abstract
The management of organizational performance is a challenge faced by every business, nonprofit, and government organization. The attributes of an outstanding organization have evolved over time as complexity has increased and change has become constant. The Baldrige Performance Excellence Program has closely tracked these attributes and changes to always reflect the leading edge of management practice. What these attributes and changes are, the challenges CEOs and organizations face today, and performance management areas that will need attention in the future are explored.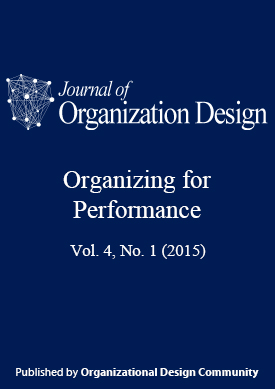 How to Cite
Hertz, H. (2015). The Challenge of Being Outstanding: A Look Back and Ahead After 25 Years of Guiding Business Excellence. Journal of Organization Design, 4(1), 44-49. https://doi.org/10.7146/jod.18246
Section
Point of View Article
This work is licensed under a Creative Commons Attribution-NonCommercial-NoDerivatives 4.0 International License.
JOD requires that at least one author of each accepted paper sign a Copyright Transfer Agreement form. Copyright will be transferred to Organizational Design Community when the paper has been accepted.
Articles published in JOD are licensed under a Creative Commons Attribution-NonCommercial-NoDerivs 4.0 Unported License.