Closing Thoughts & Open Questions
Keywords:
new forms of organizing, organizational forms, non-hierarchical organizations, self-organizing teams, boss-less organizations
Abstract
Our goal in putting the spotlight on Valve Corporation is to stimulate thinking about what (if anything) this specimen in the zoo of organizational forms teaches us. We thank our panel of distinguished commentators for kindly (and sportingly) joining us in this exercise. So is Valve simply unusual? Or is it also instructive? The commentators, to our gratification, seem to argue that it is both.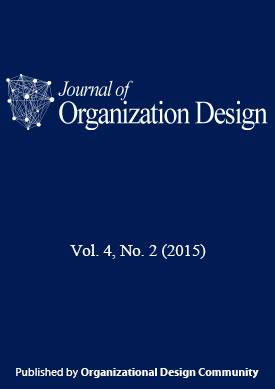 Downloads
How to Cite
Puranam, P., & Håkonsson, D. D. (2015). Closing Thoughts & Open Questions. Journal of Organization Design, 4(2), 22–23. https://doi.org/10.7146/jod.20154
License
JOD requires that at least one author of each accepted paper sign a Copyright Transfer Agreement form. Copyright will be transferred to Organizational Design Community when the paper has been accepted.
Articles published in JOD are licensed under a Creative Commons Attribution-NonCommercial-NoDerivs 4.0 Unported License.