Valve Corporation: Strategy Tipping Points and Thresholds
Keywords:
new forms of organizing, organizational forms, non-hierarchical organizations, self-organizing teams, boss-less organizations
Abstract
Valve Corporation represents an intriguing case study of flat structure and self organization (Puranam & Håkonsson, 2015; Valve, 2012).  The structures and practices of Valve of course are not new. But the company provides an interesting experiment and illustration that powerfully highlights how organizational design can impact individual and collective behavior, strategy and performance.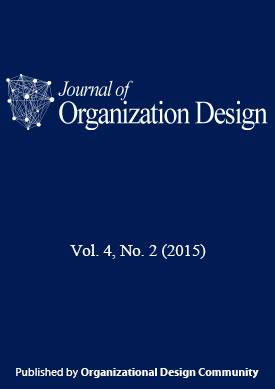 Downloads
How to Cite
Felin, T. (2015). Valve Corporation: Strategy Tipping Points and Thresholds. Journal of Organization Design, 4(2), 10–11. https://doi.org/10.7146/jod.20157
License
JOD requires that at least one author of each accepted paper sign a Copyright Transfer Agreement form. Copyright will be transferred to Organizational Design Community when the paper has been accepted.
Articles published in JOD are licensed under a Creative Commons Attribution-NonCommercial-NoDerivs 4.0 Unported License.