Valve's Way: Vayward, Visionary, or Voguish?
Keywords:
new forms of organizing, organizational forms, non-hierarchical organizations, self-organizing teams, boss-less organizations
Abstract
Puranam and Håkonsson (2015) challenge us to ponder what we as organization design theorists make of Valve's way (see also Jeppesen, 2008). We believe that Valve, in spite of its radical vision, does not represent a challenge to fundamental organization design theory and that it is questionable to what extent it represents a new blueprint for organization design, despite it being consistent with an "egalitarian Zeitgeist" (Puranam, 2014). In fact, managerial authority may be of increasing importance rather than the opposite (Guadalupe, Li, & Wulf, 2015). Thus, Valve is, and will remain, an outlier, albeit a voguish one.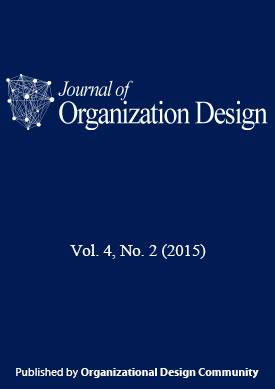 Downloads
How to Cite
Foss, N. J., & Dobrajska, M. (2015). Valve's Way: Vayward, Visionary, or Voguish?. Journal of Organization Design, 4(2), 12–15. https://doi.org/10.7146/jod.20162
License
JOD requires that at least one author of each accepted paper sign a Copyright Transfer Agreement form. Copyright will be transferred to Organizational Design Community when the paper has been accepted.
Articles published in JOD are licensed under a Creative Commons Attribution-NonCommercial-NoDerivs 4.0 Unported License.