Introduction
Keywords:
organization zoo
Abstract
Beginning with this issue of JOD (v. 4, #2), we are launching a periodic series called "Organization Zoo." Conceived by Associate Editors Dorthe Døjbak Håkonsson and Phanish Puranam, Organization Zoo is intended to analyze new or unusual organizational forms. The objective of the series is to examine organizations that have recently appeared, or which would be considered as outliers compared to traditional organizations, in order to learn more about what particular organizational forms can do as well as their drawbacks.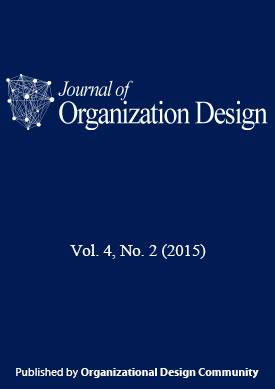 Downloads
How to Cite
Obel, B., & Snow, C. (2015). Introduction. Journal of Organization Design, 4(2), 1. https://doi.org/10.7146/jod.21047
License
JOD requires that at least one author of each accepted paper sign a Copyright Transfer Agreement form. Copyright will be transferred to Organizational Design Community when the paper has been accepted.
Articles published in JOD are licensed under a Creative Commons Attribution-NonCommercial-NoDerivs 4.0 Unported License.