A Practitioner's View of the Future of Organization Design: Future Trends and Implications for Royal Dutch Shell
Keywords:
Organization Design, Royal Dutch Shell
Abstract
Humanity is facing an increasingly challenging outlook for energy needs and the planet. Royal Dutch Shell is a global group of energy and petrochemicals companies with approximately 100,000 employees in more than 80 countries that is committed to help meet the challenges of the new energy environment in a sustainable and responsible manner. My statement will present some of the future trends and possible implications which can be seen for organization design within Royal Dutch Shell (Shell) and which are applicable to other large, complex enterprises. It largely represents the personal views and reflections of a practitioner both inside and outside of Shell's human resources (HR) function in the United States. Using the lens of organization design, we will review the themes that emerged from the Shell Energy 2025 and Shell Energy 2050 global scenarios. Next, we will discuss Shell's previous experience, challenges, and issues related to organization design, and how the recent redesign of the HR function has provided wider space and crisper focus to meet the challenges of the future. Finally, we will review the design challenges that the future trends impose upon the organization design practice. Although these challenges and implications are derived from experience working in Shell and its joint ventures, they are not confined solely to Shell. Because many of the challenges discussed below would benefit from scholarly research, the statement represents a practitioner's view on how the future of organization design may play out.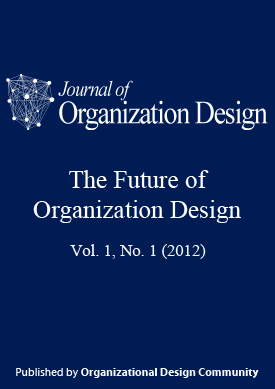 Downloads
How to Cite
Steinmetz, J., Bennett, C., & Håkonsson, D. D. (2012). A Practitioner's View of the Future of Organization Design: Future Trends and Implications for Royal Dutch Shell. Journal of Organization Design, 1(1), 7–11. https://doi.org/10.7146/jod.6335
License
JOD requires that at least one author of each accepted paper sign a Copyright Transfer Agreement form. Copyright will be transferred to Organizational Design Community when the paper has been accepted.
Articles published in JOD are licensed under a Creative Commons Attribution-NonCommercial-NoDerivs 4.0 Unported License.