A Model of the Platform-Ecosystem Organizational Form
Keywords:
platform, ecosystem, ICT, model
Abstract
Technological advancements are driving the evolution of a form of organizing economic activity – the platform-ecosystem – particularly in a variety of ICT-enabled industries. This article builds on calls to more adequately describe and explain this form of organizing (Alberts, 2012; Baldwin, 2012; Tushman, Lakhani, & Lifshitz-Assaf, 2012). I propose a preliminary model that highlights the fundamental economic variables in the platform-ecosystem organizational form: knowledge substitution and powerful incentives. The model emphasizes knowledge-based considerations, suggesting the view that the main purpose of ICT-enabled platforms, such as smartphones, game consoles, and Internet services, is the development of complementary products, services, and technologies.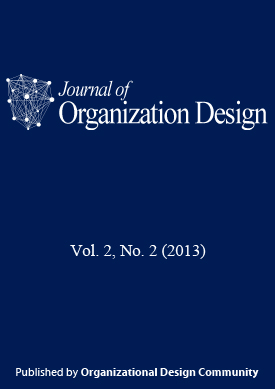 Downloads
How to Cite
Yonatany, M. (2013). A Model of the Platform-Ecosystem Organizational Form. Journal of Organization Design, 2(2), 54–58. https://doi.org/10.7146/jod.7267
Section
Point of View Article
License
JOD requires that at least one author of each accepted paper sign a Copyright Transfer Agreement form. Copyright will be transferred to Organizational Design Community when the paper has been accepted.
Articles published in JOD are licensed under a Creative Commons Attribution-NonCommercial-NoDerivs 4.0 Unported License.