Employing Young Talent from Underserved Populations: Designing a Flexible Organizational Process for Assimilation and Productivity
Arthur Mark Langer

Columbia University
Keywords:
New organizational forms, outsourcing, workforce development, mentoring, adult development theory, workplace transformation, workplace literacy
Abstract
This article describes an ongoing 13-year-old program designed to improve the ability of organizations to assimilate young talent from underserved populations, mostly students who have recently graduated from high school. Although many firms have internship and orientation programs, few have well-tested organizational approaches for assimilating 17-20 year-olds into their organizations in an efficient and productive manner. The objective of this study is to describe and evaluate the solution introduced by Workforce Opportunity Services (WOS), a non-profit agency that provides organizations with well-trained talent from underserved local communities. The WOS model is a systemic design involving a lead agency (WOS), corporate clients, training partnerships with local colleges and universities, and underutilized human capital. Over 290 students have completed the WOS program and obtained long-term employment, mostly in IT jobs that normally are outsourced. The results of the study show that companies have success employing young talent when they follow the WOS organizational process. Companies need to have patience with WOS student employees, but within six months most members of the WOS program make positive contributions to their sponsoring firm and have a strong likelihood of becoming permanently employed. Implications of the WOS model for organization design are discussed.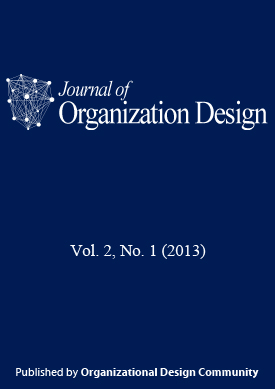 How to Cite
Langer, A. (2013). Employing Young Talent from Underserved Populations: Designing a Flexible Organizational Process for Assimilation and Productivity. Journal of Organization Design, 2(1), 11-26. https://doi.org/10.7146/jod.7311
JOD requires that at least one author of each accepted paper sign a Copyright Transfer Agreement form. Copyright will be transferred to Organizational Design Community when the paper has been accepted.
Articles published in JOD are licensed under a Creative Commons Attribution-NonCommercial-NoDerivs 4.0 Unported License.