How to Design for Strategic Resilience: A Case Study in Retailing
Keywords:
Resilience, organizational resilience, strategic resilience, organization design, mindfulness, generative doubt, slack resources, leadership
Abstract
Few firms can be said to be truly resilient by sustaining high performance for a long time. We draw on a case study of a large U.S.-based retailer to explore how an organization develops resilience – the ability to recover quickly from environmental jolts or misfortunes. The company's CEO, concerned about the company's ability to maintain its industry leadership and excellent performance, sought to engage the organization in a broad quest for developing resilience capabilities. Our analysis of this case suggests that generative doubt, organizational slack, and mindful engagement throughout the organization are key conditions for resilience. These three conditions need to co-exist to develop and sustain strategic resilience.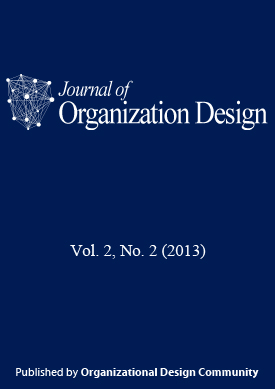 How to Cite
Välikangas, L., & Romme, G. (2013). How to Design for Strategic Resilience: A Case Study in Retailing. Journal of Organization Design, 2(2), 44–53. https://doi.org/10.7146/jod.7360
License
JOD requires that at least one author of each accepted paper sign a Copyright Transfer Agreement form. Copyright will be transferred to Organizational Design Community when the paper has been accepted.
Articles published in JOD are licensed under a Creative Commons Attribution-NonCommercial-NoDerivs 4.0 Unported License.