The Future of Organization Design: An Interpretative Synthesis in Three Themes
Keywords:
Organization design, new organizational forms
Abstract
In the inaugural issue of the Journal of Organization Design (Vol. 1, #1, 2012), noted scholars and experienced practitioners presented their views on the future of organization design. The seven wise and provocative statements were subsequently discussed by members of the Organizational Design Community at a conference held at Harvard University on August 3, 2012. I was asked by JOD to monitor the discussion and identify the broad organization design themes that emerged. Although the discussion was wide ranging, three themes were noticeable. The first theme is that there are fundamentals of organization design, and all agreed that design involves creating a cohesive socio-technical system from a number of constituent elements. The second theme is that the boundaries of many newer organizational forms extend beyond that of the single firm, so the scope of organization design needs to expand to include ecosystems, collaborative communities, industries, and other supra-firm architectures. The third theme involves time and change, requiring a shift in focus from how organizations become stable and predictable to how they can become more agile.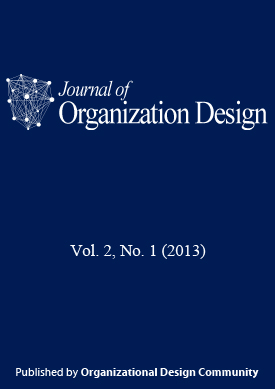 Downloads
How to Cite
Burton, R. M. (2013). The Future of Organization Design: An Interpretative Synthesis in Three Themes. Journal of Organization Design, 2(1), 42–44. https://doi.org/10.7146/jod.7363
Section
Point of View Article
License
JOD requires that at least one author of each accepted paper sign a Copyright Transfer Agreement form. Copyright will be transferred to Organizational Design Community when the paper has been accepted.
Articles published in JOD are licensed under a Creative Commons Attribution-NonCommercial-NoDerivs 4.0 Unported License.