The Impact of Organizational Structure on Internal and External Integration: An empirical, cross-regional assessment
Xenophon Koufteros

Mays Business School, Texas A&M University

Xiasong (David) Peng

University of Houston

Guanyi Lu

Oregon State University

Richard Peters

Xavier University of Louisiana
Keywords:
Supply chain management, supply chain integration, organizational structure, organization design, cross-cultural research
Abstract
We examine the effects of organizational structure on cross-functional integration, supplier integration, and customer integration and assess whether such effects vary by geographical region. Specifically, we investigate the impact of centralization, formalization, and complexity on both internal (cross-functional) and external (supplier, customer) integration. Relationships are examined across Western and East Asian environments using data collected from 238 manufacturing plants in eight countries. We find that structural features have differing impacts on cross-functional, supplier, and customer integration, and these effects vary across geographical regions.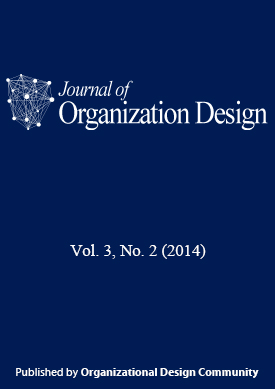 How to Cite
Koufteros, X., Peng, X. (David), Lu, G., & Peters, R. (2014). The Impact of Organizational Structure on Internal and External Integration: An empirical, cross-regional assessment. Journal of Organization Design, 3(2), 1-17. https://doi.org/10.7146/jod.7386
JOD requires that at least one author of each accepted paper sign a Copyright Transfer Agreement form. Copyright will be transferred to Organizational Design Community when the paper has been accepted.
Articles published in JOD are licensed under a Creative Commons Attribution-NonCommercial-NoDerivs 4.0 Unported License.