Drivers of Organizational Responsiveness: Experiences of a Military Crisis Response Organization
Erik De Waard

Netherlands Defense Academy Faculty of Military Sciences

Henk W Volberda

Erasmus University Rotterdam School of Management

Joseph Soeters

Netherlands Defense Academy Tilburg University
Keywords:
Organizational responsiveness, crisis response, organization design, modularity
Abstract
The topic of organizational responsiveness – where organizations need to flexibly react to strategic and operational demands simultaneously – has been under-explored in strategic management research. Our study was initiated to shed more light on this topic, primarily by studying an organization specifically designed to handle crises. By definition, crisis response organizations have to be prepared to react to unpredictable events. Moreover, the volatility of the crisis situation itself requires a high degree of flexibility to get or keep the situation under control. The study hypothesizes modular organizing and organizational sensing to be key drivers of organizational responsiveness. Empirically, we examine the effect these two variables have on the responsiveness of the Netherlands armed forces for crisis response deployment. Findings indicate that modular organizing and organizational sensing are drivers of responsiveness. In addition, our study uncovered the importance of an organization's level of system decomposition to responsiveness. A high degree of system granularity can lead to a predominantly inward focus whereas organizational responsiveness calls for a strong external orientation.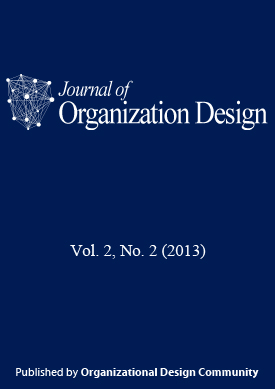 How to Cite
De Waard, E., Volberda, H., & Soeters, J. (2013). Drivers of Organizational Responsiveness: Experiences of a Military Crisis Response Organization. Journal of Organization Design, 2(2), 1-14. https://doi.org/10.7146/jod.7850
JOD requires that at least one author of each accepted paper sign a Copyright Transfer Agreement form. Copyright will be transferred to Organizational Design Community when the paper has been accepted.
Articles published in JOD are licensed under a Creative Commons Attribution-NonCommercial-NoDerivs 4.0 Unported License.