The Contingent Value of Organizational Integration
Keywords:
Organizational integration, contingency theory, organizational effectiveness, organizational complexity, task complexity
Abstract
We elaborate the link between organizational design and effectiveness by examining organizational integration and performance in the context of modern manufacturing. Through careful contextualization and empirical analysis of 266 manufacturing organizations in three industries and nine countries, we uncover a joint effect of integration and complexity on organizational effectiveness. The results extend structural contingency theory, in particular the mechanisms that link organizational integration to organizational effectiveness. We conclude by discussing the continuing relevance of structural contingency theory.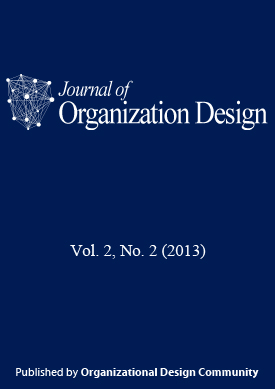 Downloads
How to Cite
Turkulainen, V., & Ketokivi, M. (2013). The Contingent Value of Organizational Integration. Journal of Organization Design, 2(2), 31–43. https://doi.org/10.7146/jod.7864
License
JOD requires that at least one author of each accepted paper sign a Copyright Transfer Agreement form. Copyright will be transferred to Organizational Design Community when the paper has been accepted.
Articles published in JOD are licensed under a Creative Commons Attribution-NonCommercial-NoDerivs 4.0 Unported License.