Organization Design for Dynamic Fit: A Review and Projection
Keywords:
organization design, organizational fit, dynamic fit, organizational alignment, misfit
Abstract
The concept of fit is central to organization design. In the organizational literature, fit historically has been portrayed as a static concept. Both organizations and their environments, however, are continually changing, so a valid concept of fit needs to reflect organizational dynamics. In this article, I analyze various theoretical perspectives and studies that relate to organizational fit, differentiating those that employ an equilibrating or a fluxing approach. Four substantive themes emerge from this analysis: design orientation, design tension, designer/manager roles, and measurement and validation. Implications of each of these themes for dynamic fit are derived, and promising future research directions are discussed.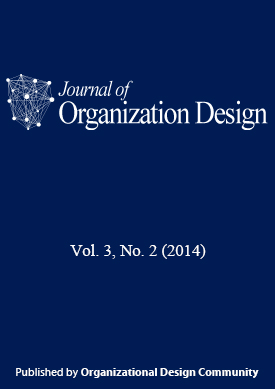 Downloads
How to Cite
Nissen, M. (2014). Organization Design for Dynamic Fit: A Review and Projection. Journal of Organization Design, 3(2), 30–42. https://doi.org/10.7146/jod.8196
License
JOD requires that at least one author of each accepted paper sign a Copyright Transfer Agreement form. Copyright will be transferred to Organizational Design Community when the paper has been accepted.
Articles published in JOD are licensed under a Creative Commons Attribution-NonCommercial-NoDerivs 4.0 Unported License.