How Decisions Can Be Organized - and Why It Matters
Keywords:
Organization design, decision making, organizational performance, decision aggregation, decision delegation, decision rights, decision evaluation
Abstract
Recent theoretical advances allow organizational designers and managers to better understand how decision processes can be improved. These advances allow managers to address a number of critical questions about the structure and process of decision making, issues that are relevant for any kind of organization be it social, political, or economic. Can we add another employee somewhere in the decision process to increase economic performance? Can we add or eliminate a channel of communication to raise the quality of decisions? What level of skill is worth paying for when we hire a decision maker? Is it a good idea to push decision makers beyond their current capacity if doing so increases their error rate by five percent? Where does the injection of inexperienced decision makers hurt the least? We describe an organizational design approach that provides answers to such questions, and we offer specific guidelines that managers can use to improve decision making in their organizations.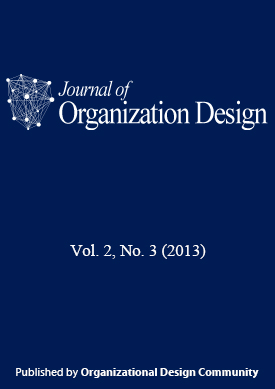 Downloads
How to Cite
Christensen, M., & Knudsen, T. (2013). How Decisions Can Be Organized - and Why It Matters. Journal of Organization Design, 2(3), 41–50. https://doi.org/10.7146/jod.8566
Section
Translational Article
License
JOD requires that at least one author of each accepted paper sign a Copyright Transfer Agreement form. Copyright will be transferred to Organizational Design Community when the paper has been accepted.
Articles published in JOD are licensed under a Creative Commons Attribution-NonCommercial-NoDerivs 4.0 Unported License.