The Information Panopticon in the Big Data Era
Keywords:
Big Data, Information Visibility, Visibility Paradox, Control, Empowerment
Abstract
Taking advantage of big data opportunities is challenging for traditional organizations. In this article, we take a panoptic view of big data – obtaining information from more sources and making it visible to all organizational levels. We suggest that big data requires the transformation from command and control hierarchies to post-bureaucratic organizational structures wherein employees at all levels can be empowered while simultaneously being controlled. We derive propositions that show how to best exploit big data technologies in organizations.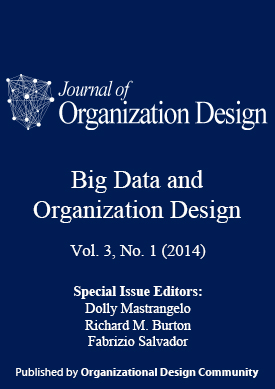 How to Cite
Berner, M., Graupner, E., & Maedche, A. (2014). The Information Panopticon in the Big Data Era. Journal of Organization Design, 3(1), 14–19. https://doi.org/10.7146/jod.9736
License
JOD requires that at least one author of each accepted paper sign a Copyright Transfer Agreement form. Copyright will be transferred to Organizational Design Community when the paper has been accepted.
Articles published in JOD are licensed under a Creative Commons Attribution-NonCommercial-NoDerivs 4.0 Unported License.